Key points of our DMX lighting controller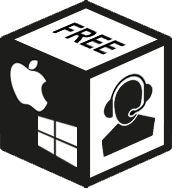 Multi Operating systems
Our DMX lighting software works on Windows and Mac computers, and the lightshow can be exported/imported between each platform. You are free to switch from Windows to MacOS and vice versa.

Low processor resource
Our computer for demonstrations in tradeshows is a Macbook from year 2009 (the old white plastic model with a "Core2Duo" processor), and our lighting software works smoothly on it. No need to buy a brand new computer to run our DMX lighting controller.

Free extensive try
You can load and run our software, and thanks to the included 3DView program, you can build a complete lightshow and visualize it with the 3D rendering. No restriction ; try everything and make your mind.

Free DMX fixtures profiles
If your DMX fixture is not in our bank of profiles, just submit a request for it in our technical forum, and our support team will do it for free in a very short time. The profile requirements section is here: profile requirements.

Free software updates
All software updates are free since the first version in 1998. And each new major software version still works with your "old" DMX interface, as long as the computer technology allows it.

Free technical support
Post your technical question in our forum and our support team will answer to your question in less than 24 hours (depending of the time difference with your country).
You can also talk with the other users in our Facebook Group.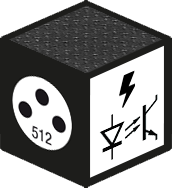 Robust
Our DMX interfaces have a robust metal casing. Handling will not damage them.

Electrical protection
A faulty DMX fixture may send in the DMX line a bad voltage/current able to destroy the dmx interface. Our DMX interfaces have a strong electrical protection on the DMX line, so any bad voltage/current in the DMX line will not damage them.

USB auto install
With Windows computers and an internet connection, just plug our DMX interface and "Windows Update" will automatically install its USB driver after a few seconds. No hassle with the usb drivers ; Microsoft® does everything for you.
With Mac computers, there is no USB drivers, so there is nothing to do as well.

Standalone ability
A computer failure may happen during the show, and this usually causes all lights to switch off. Our DMX interface will play your chosen dynamic scene, as soon as the communication with the computer stops. You will not face a blackout with your lights.

Evaluate our Software for free !
Download it, load the demo project and watch the lightshow in our 3D viewer.
SweetLight is available for download on your Windows or MacOS computer.